Any activity near water can be a risk. Be aware of the hazards, adopt a common sense approach and take sensible precautions.
• Be aware you are in the Countryside and in a Natural Environment, conditions can change or may have changed since your last visit.
• Always try to use the prepared swims over-grown, steep, or slippery banks can be very dangerous.
• Always check your peg is sound and safe before fishing, erosion can degenerate a peg that was safe on your last visit.
• On flooded rivers, beware of undercut banks and rising levels.
• Be aware of the dangers of wading, never wade where it is unsafe to do so.
• DO NOT take risks, if in doubt Don't! There is little chance for those who get into difficulty on water. Take extra care if you are a non-swimmer.
• Look Out and Look Up! – Beware of overhead power cables. Do not use carbon fibre rods or poles
• near overhead electric power lines. Electrocution can be fatal! Do not fish within 30 metres of power cables.
• Always notify someone of where you intend to fish and what time you are expected to return.
YOU CAN HELP
The Officers and Committee of the KLAA appreciate that the water environment and the sport of angling is not without certain hazards and are fully committed to the prevention of accidents, to the limitation of their consequences and to the safety of members and others on KLAA fisheries and due care
should be exercised at all times. However, if any member is aware of any particular hazard which may affect the safety of members or the general public on KLAA fisheries would they please notify the Secretary accordingly.
NOTICE TO MEMBERS WEIL'S DISEASE & Q FEVER
Weil's Disease (Leptospirosis) is a bacterial infection carried in rats urine which contaminates water and the banks of lakes, rivers and ponds. It is a serious disease in human beings that requires hospital treatment. The early symptoms are similar to those of flu and normally start 3 to 19 days after exposure to contaminated water. Every year people die from this disease which is unnecessary because it is easily treated if diagnosed in time. Q Fever. Usually transmitted by farm animals, however it has also been transmitted by rats and has similar symptoms to Weils Disease so the same precautions need to be applied.
DON'T LET IT HAPPEN TO YOU
There are a number of sensible precautions you can take:-
• Cover any cuts, sores or scratches with waterproof plasters or gloves.
• Disinfect any wounds that occur at the waterside, antiseptic wipes are available.
• Wash your hands or cover any food with a wrapper before you eat.
• Do not put your hand in your mouth after immersing in river water and never place bait or fishing line in your mouth.
• Do not touch dead animals, especially rats.
• If you develop flu like symptoms that persist tell your doctor that you may have been exposed to leptospirosis so that he/she can consider it in the diagnosis.
• Do not leave food, ground bait or bait on the bank side to encourage rats.
• Do not wear open-toed or no footwear near water.
• Always wash or shower after activities involving fresh water fisheries.
AVIAN INFLUENZA (BIRD FLU)
This disease will probably arrive in this country by modern air travel. However whilst this may only be a small risk it pays to be vigilant.If you notice a number of birds dead in any one instance, particularly near watercourses notify DEFRA on their hotline 08459 335577 and a KLAA Officer.
For your own safety do not touch any possibly infected birds.
ALIEN SPECIES – HELP PROTECT YOUR FISHING
CHINESE MITTEN CRAB IMPACTS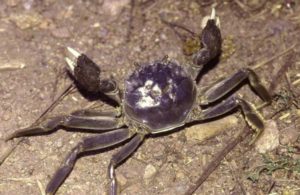 Bank damage caused by deep burrowing destruction of bank side vegetation
Predation of native fish species
Damage to recreational fishing equipment
AMERICAN RED SIGNAL CRAYFISH IMPACTS
Aggressive & damaging Reduces biodiversity, destroys habitat & Seriously erodes riverbanks
Eats fish spawn & eggs causing a marked decline in fish populations
Responsible for the decline of UK white crayfish
Spreads crayfish plague which kills native crayfish
REPORT SIGHTINGS to [email protected]